[25/09/2019]
Because I'm starting this devlog 2 weeks after starting the project, there's some catch up to do. I'll try to explain in some detail how the systems work for now.
I used Unity's tilemap features to draw a crude map (very reminiscent of NeoQuest II, in my mind...) where I plan all the project to take place.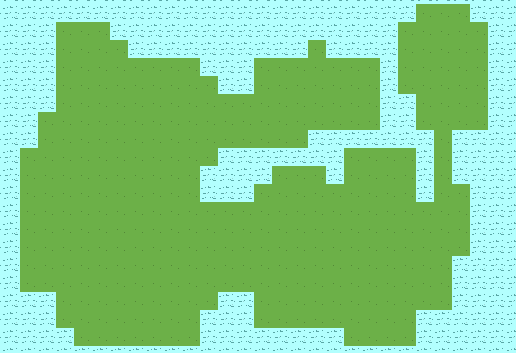 Some of my friends looked at it and said: "nice! is that procgen (procedurally generated)?" no!!!! That's beyond the scope of this project, at least for now. It's just a little something that I made up in a few minutes using assets that I had on hand.
With the map out of the way, I started working on real meat of the project: the bunnies. And oh boy, do I have to tell you about the bunnies.
When I started this project, I thought that most of the time would be spent figuring out how genetic algorithms work, and learning all about evolutionary stuff. Never in a million years would I imagine that I'd spend so much time trying to figure out how to simulate an animal environment.
Because the bunnies have to do stuff! Of course they have, how could they not?? I know that Primer's video uses blobs and simple fitness functions (I think he uses a "day" model or something like that), but that's so not cool! Sebastian knows where it's at, doing the bunnies reproduce, eat, drink and all that jazz. That's what I want to do!
For us to do that, we need to figure out how to model a creature's behaviour. After much pondering, and then discussing it with some of my friends, I arrived at a solution that left me satisfied: processes.
(Just as an aside: part of what makes this project so much fun for me is that I intentionally only work at it when I'm at the college lab. It's not the best place to work (many distractions), but when people see what I'm working on, they always want to know more about it. And the challenges in this project ("how to model the behaviour of a creature?") are so inherently interesting and discussable that people almost always get excited and offer their own ideas. It's been a long time since I've felt this (since... what? VCS?), and makes me look forward to those moments. I don't know if that's gonna continue when I moe on to other parts of the project (like the evolutionary stuff), but for now it's pretty nice.)
This is how the process-based behaviour works:
A creature is always running some process. E.g.: drinking water, searching for food, idly moving.

Processes have priorities (loosely based on Maslow hierarchy of needs). If a creature is searching for food but suddenly sees a predator (foxes!), it should run the heck away because its safety has higher priority than its hunger (humans used to hunt deer by outrunning it, I'm pretty sure I've read that somewhere).
Processes can be canceled via interruptions. When a creature sees a predator, an interrupt with high priority is generated.

If a creature is running a process with priority N, and an interruption is generated with priority M such that N >= N, then the interruption is discarded and the process keeps running. That is to say: a process can only be replaced when it ends, or when another process with higher priority is requesting execution.

A creature has necessities (hunger, thirst, etc) that change over time. They are represented as continuous values, and range from -1 to 1.

Necessities change at different rates: thirst may need to be addressed more frequently than hunger (although that's correct, I don't know if that would make for a good simulation. But in theory, the model needs to be able to address that).

A creature has sensors:

Internal sensors are always pooling necessities and trying to create new processes via interruptions. The priority of those interruptions are proportional to the respective necessities. The more hungry a creature is, the more it is pressured to start searching for food. These sensors are executed in Unity's "Update" function.
External sensors are always attentive to the environment. When a predator arrives on the scene, it's the external sensors that say: "look out!", generating interruptions with high priority. These sensors would be implemented via Unity's regular "OnTriggerStay".

Each process has chain states (the name isn't the best, but I have a penchant for weird names so...). I think I can best explain this with an example: whenever a creature sees some food, it generates an interrupt of the kind "go to food", even though it isn't necessarily searching for it. If the creature isn't hungry, then that interrupt would have low priority, and wouldn't be acted upon. But if the creature was running the process "search for food" for whatever reason, then "go to food" needs to run immediately (after all, that's what the creature was looking for!), regardless of its priority. That happens because the process "search for food" has "go to food" as a chain state: in other words, "search for food" is vulnerable to "go to food" interrupts. It's just a way for creating dependency between processes. I don't know if it's kinda hacky or not, but it makes sense in my head.
Oof, I think that's pretty much all the rules I have for now! I did something kinda rare and tried to think of them all before implementing them. I'm way more used to thinking while I'm programming, so taking a step back and planning my approach is very refreshing. That's also one of the goals of this project, and one of the reasons why I'm intentionally only working on this project when I'm on the college lab. That way, I can stop myself from getting too absorbed...
But having that said, I actually implemented those rules, and they worked surprisingly well!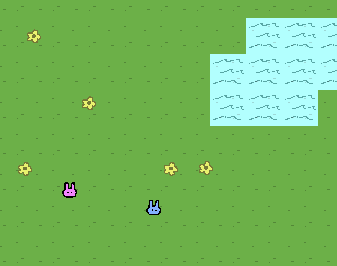 So, that's them bunnies walking around and eating when hungry and idling when not... I only implemented hunger up until now, because I figured the other necessities would be kinda similar. Before I forget, those necessities are: hunger, thirst, reproductive urge (to borrow the terminology that Sebastian Lague uses) and safety (running away from predators). Actually I don't know if I'm gonna implement thirst because I don't think looking at the bunnies drinking water is going to be so interesting. But who knows.
I also added a way for the bunnies to die when they are too hungry: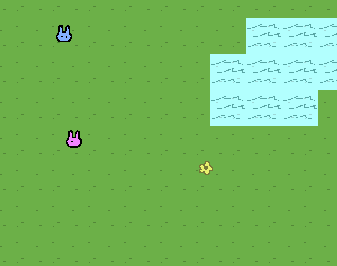 That is being done using the extremely complex formula "health = hunger". If health is less than -0.5f, the creature dies.
And that's all I have to show you. The next step is going to be adding reproduction, so we can get a little bit closer to putting the "evo" in "replykatie". I have some ideas as of how to model that system, but we can talk about that later.
See you next time!